Premium Instruments
Starting with an exceptional instrument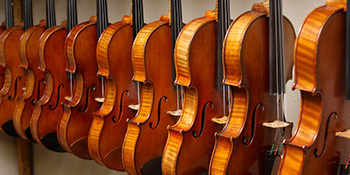 When Schultz Strings started renting instruments we determined that we only wanted to purchase instruments that we would play ourselves and would last for many years and decades. Avoiding what is often considered future land fill or VSO's (violin shaped objects) we have a substantial investment in the rental instrument inventory our clients enjoy. We do this for the simple fact that we want our investment to last and we want more people to keep playing. Better instruments directly relates to students staying with lessons and orchestra longer.
Hand crafted and varnished instruments
Well aged wood to prevent cracks and open seams
Premium strings on all instruments
Fine premium fittings such as French bridges and ebony components
Included carbon composite bows for no extra fee
Included rosin and cleaning cloth to keep the instrument working well and clean
Maintaining a fine instrument through the years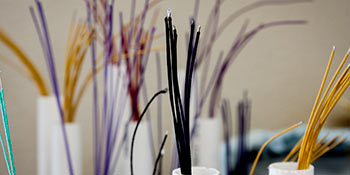 Our rental instruments go through a rigorous refurbishment process each time they come back to the shop. With several dozen points to check and multiple staff members checking each instrument through the process we believe this is what makes the difference for our clients.
Strings replaced regularly with new premium strings at any sign of wear
Bow hair replaced and regularly cleaned to function in optimal way
Varnish touched up to cover any exposed white wood and to make the instrument more aesthetically appealing for the next user.
Hardware and seams constantly checked for wear and functionality
Cases with cosmetic or structural damage replaced
Schultz Strings donates instruments and cases that are no longer up to our standards but still usable to needing school districts and programs
Emphasis on sound and play-ability first
No matter how pretty an instrument looks it has to sound good and be easy to play to be enjoyed.
We play test and adjust all instrument for ease of use when new and each time they come back to the shop and before they go out
We meet with clients to fine tune set up and sound preferences based on their needs
We set up instruments with specific pedagogical goals in mind. So, for smaller instruments we increase the bridge arch to make it easier for young players to only touch one string at a time. We also set up our smaller instruments to be more responsive
The experience you deserve when starting your musical journey
All of our staff you will meet in our office or on the phone are trained and passionate about stringed instruments. This allows us to resolve issues and help our clients quicker than other stores that offer all different types of instruments. By focusing on just bowed string instrument we are able to help people with our expertise and this is why we have become known as the most trusted partner in the string instrument field in Iowa and beyond! Experience the difference today and start your musical journey!