The Best Care For Your Instrument
Ship-to-Home Bow Rehair Service
Schultz Strings is pleased to offer special pricing on bow rehairs picked up from your home, delivered to Schultz Strings, and returned to you safely by our trusted third party shipping provider. This provider covers all of IA, IL, WI, MN, ND, and SD, as well as parts of NE and MO. Check the coverage here.

The process is simple:
Let us know you want a bow rehair. We will collect your shipping address and contact information. You can reach us by emailing [email protected] or calling (844) 443-6159 to set this up.
We will ship you a sturdy bow tube and instructions to pack up your bow!
You will pack your bow, and when it is ready, tell us so we can arrange for the package to be picked up. SpeeDee Delivery will pick up the package from your front door! Once the package is picked up, your bow is covered under our insurance.
We receive your bow and service is performed by our outstanding luthier, Brytton Pollock!
We ship your bow back in the same bow tube. You keep the tube for your next rehair!

Our competitive rehair pricing is as follows:

Violin/Viola: Premium $70, Student $60
Cello: Premium $75, Student $65
Bass: Premium White $100, Student White $80, Salt & Pepper $80, Black $80
We can provide additional service on your bow such as a new leather grip, winding, and tip plate if needed, for an additional charge. We also offer Zarelon synthetic bow hair for the same as Premium hair.
We charge an additional $20 service fee so that we may arrange for shipping an empty bow tube to you, shipping the package back to us, and then back to you.
Our turnaround time is approximately one week from shipping the bow tube to returning the completed bow.
Need a loaner bow? We have you covered. We are happy to offer this for an extra $10, so we can arrange to have the loaner shipped back at the end of the process.
Need accessories or instrument service? We are offering 20% off all strings, accessories, and other items! We can ship small accessories along with the bow tube, and larger accessories may be shipped separately. We can also do the same process explained above, but with shipping a larger box to fit your violin or viola for service. Shipping fees may vary based on shipment weight and location.
If you are an educator, let us know. You also qualify for an additional 15% discount off of the cost of the rehair or repair services (shipping not included).

A Commitment to Quality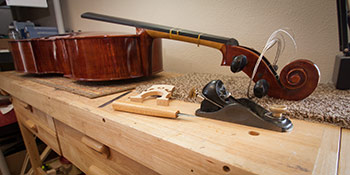 Schultz Strings instrument repair offerings are recognized through our region as outstanding because of our incredible care for customer service and communication. In addition to our outstanding in house team, Schultz Strings collaborates with several of the most highly trusted and respected luthiers in the world. We offer repair, restoration and adjustment service for instruments in all conditions and values. As musicians ourselves this unique understanding of players and owners needs helps us find customer satisfaction time and time again. Most repairs are based our hourly rate of $80. This honesty in billing allows us to provide exactly the care your instrument needs for a transparent price. This often creates lower pricing than other shops. We offer very accurate and free estimates before repair work begins.
Sensitive to Your Needs
Schultz Strings offers free loaner instruments while we are working on your instrument or bow. This way you can keep making music. We offer professional loaner instruments for those who need a high level artist tool while yours is being restored. We aim for very reasonable turn around of repair work and are able to take emergency repairs under very quick and reasonable time lines when performance deadlines are apparent.
How to Connect With Us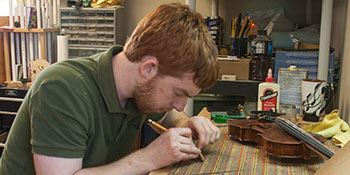 While we welcome walk in clients with repairs during office hours we are able to serve you best with advanced notice. Please contact us in advance if you are able to schedule an appointment. We will give you an estimate on the spot or generally within 24 hours if our technician is not available. You will be given a loaner if you wish while you leave your instrument for estimate or repair. You will be given an approximate time line for completion of the needed work. We are able to complete any restoration or repair task on your bowed string instrument. Please visit with us to find out why we have quickly become the trusted source in Eastern Iowa for string instrument and bow repair and restoration.