The best care for your instrument
A Commitment to Quality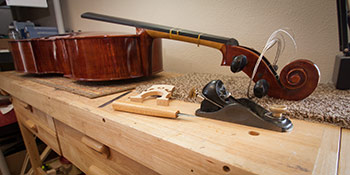 Schultz Strings instrument repair offerings are recognized through our region as outstanding because of our incredible care for customer service and communication. In addition to our outstanding in house team, Schultz Strings collaborates with several of the most highly trusted and respected luthiers in the world. We offer repair, restoration and adjustment service for instruments in all conditions and values. As musicians ourselves this unique understanding of players and owners needs helps us find customer satisfaction time and time again. Most repairs are based our our hourly rate of $75 and this honesty in billing allows us to provide exactly the care your instrument needs for a transparent price. This often creates lower pricing than other shops. We offer very accurate and free estimates before repair work begins.
Sensitive to Your Needs
Schultz Strings offers free loaner instruments while we are working on your instrument or bow. This way you can keep making music. We offer professional loaner instruments for those who need a high level artist tool while yours is being restored. We aim for very reasonable turn around of repair work and are able to take emergency repairs under very quick and reasonable time lines when performance deadlines are apparent.
How to Connect With Us
While we welcome walk in clients with repairs during office hours we are able to serve you best with advanced notice. Please contact us in advance if you are able to schedule an appointment. We will give you an estimate on the spot or generally within 24 hours if our technician is not available. You will be given a loaner if you wish while you leave your instrument for estimate or repair. You will be given an approximate time line for completion of the needed work. We are able to complete any restoration or repair task on your bowed string instrument please visit with us to find out what we have quickly become the trusted source in Eastern Iowa for string instrument and bow repair and restoration.