A vision to do things a better way.....
A Small Start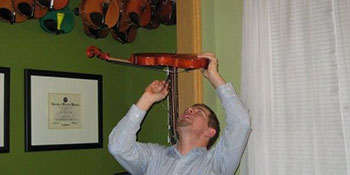 In the summer of 2009 John and Rebecca Schultz began Schultz Strings to very simply serve the string instrument needs of John's private studio. He had been working to connect students and professionals with fine instruments for several years and both he and Rebecca felt it was important to formalize this work. So, less than a dozen instruments were purchased and John trained on instrument restoration with Mark Messer, of Madison Wisconsin, and Schultz Strings was born out of their small family home in Mt. Vernon, IA. In the picture you can see John struggling to get a sound post out of an instrument one of the first few times trying...
Violins Everywhere
By the Spring of 2010 violins started pouring out of many of the rooms in their Mt. Vernon home and guest room had been converted into an inventory storage space. John and Rebecca moved to a house down the street in Lisbon to help with the violin issue they were having and the company started to serve many students in other studios throughout eastern Iowa with instruments, bows and some supplies.
Developing in Cedar Rapids
Around the summer of 2011 it was clear that something had to change and Schultz Strings started moving from a home business to our current Cedar Rapids location. It was during this time that we also added our first team member, Marty Clancey. We were open a whole six hours per week and our inventory start to quickly grow as we introduced our rental program and started to work with area school districts. By 2012 we were outgrowing our unit in the office we were in and added a lower level space as our new show room. We also welcomed our first full time store manager at the start of 2013. In our upper level teaching space we were sharing the very busy studios with the Cedar Rapids Suzuki Academy. By 2013 we were serving several dozen school and music programs and had worked with thousands of clients finding the rentals, instruments and supplies they needed!
Continuing to Serve the Community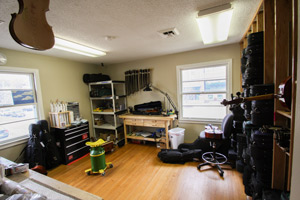 In the spring of 2014 we welcomed Rebecca to the company full time as our office manager and COO. Later that spring we acquired the second half of the second floor of our office and started an extensive renovation project to complete a new show room, restoration shop and administrative office to better serve our clients. In June of 2015 we welcomed one of our first team members, Brytton Pollock, to his new role of Store Manager. In the Fall of 2016 Schultz Strings increased our leadership team by adding our Manager of Educational Services.
The Joy of Community Collaboration
As Schultz Strings moves to the future we look to partner with more organizations and partners to better serve our string community. Customer service and great products will continue to be our priority and we welcome your questions, comments and ideas! We feel fortunate to have the opportunity to meet and share our love of instruments and music making with our clients and partners and look forward to continuing to serve Eastern Iowa and beyond.